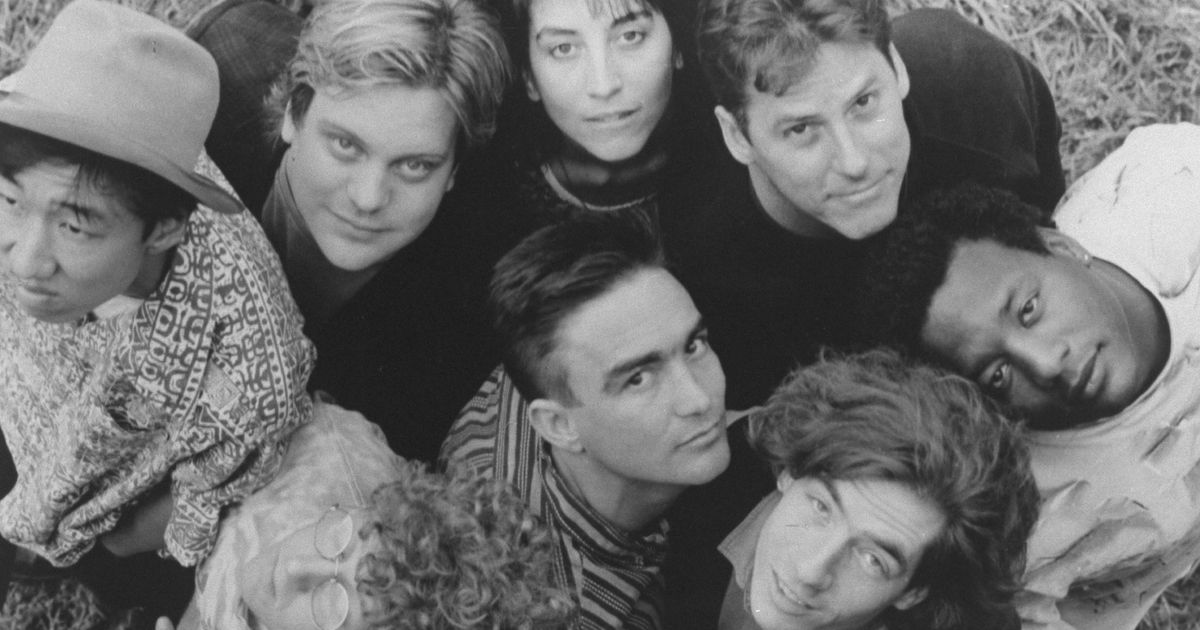 When it's good, when it's really, really good, music is educational. Music is spiritual. Music is inspirational. Connecting with meaningful music fills you up. It fills your chest and your heart and your dreams, and the melodies and the lyrics resonate in a space between your ears. Something magical happens.
Likely, I first heard about the band Poi Dog Pondering on WXRT, the Chicago radio station I listened to religiously upon my return home after college in 1989. Though certainly not the most progressive radio station in the country, they championed select young artists who were making good music and who I had likely never heard before. Like Poi Dog Pondering.
Poi Dog Pondering was founded by lead vocalist and songwriter Frank Orrall in Hawaii in the 1980's. They used to play in bars and on street corners, and came to the mainland in search of a recording contract. They traveled across the country in a beat up van before settling in Austin, TX, where they recorded their first major label album Wishing Like a Mountain and Thinking Like the Sea in 1989. They eventually moved Chicago where they continue to record and perform.
Got that? Hawaii, to Austin, to Chicago.
Allmusic.com describes Wishing Like a Mountain and Thinking Like the Sea as an "irresistible party of an album," but I think it's more important than that. I think it's better than that, and some of the lyrics on the album have been important creative and spiritual sign posts for me throughout my adult life.
Clearly referencing their Hawaiian origins, the third track off the album is called "U-Li-La-Lu," and in just a few simple words the song provides a road map to living a satisfying and happy life. The song is celebratory, educational and reflective. Embrace this thing life. Honor successes and failures, and savor everything up to your very last moment.
The song begins with the band harmonizing the title of the song a cappella. It is beautiful, and haunting. Soon, the drums begin with a tap on the high hat cymbal, followed soon a droopy bass and sinewy electric rhythm guitar. We hear a few notes from the violin. All the pieces fall into place.
Frank Orrall then sings the first two lines, which are then repeated to comprise the entire first verse.
"You should wear with pride the scars on your skin
They're a map of the adventures and the places you've been"
These two simple lines have helped me, and they have helped people in my life. Whether I am repeating these salient words to myself, or to my children, or to my colleagues, or to people I am just meeting for the first time, they speak a universal truth. Hard times are hard times, but we survive hard times, and those hard times help to inform our lives moving forward. We are stronger because of the hard times. We are better because of the hard times. We may have a scar, but that scar can then become a beautiful part of who we are.
And then the title is sung again as the chorus. As the drums continue to move the song forward in a continual shuffle, the words of the title are sung as celebration, as acknowledgement of a life well-lived, as signifying this moment in time. Horns accentuate the melody, and Orrall sings the first two lines of the second verse, which are then repeated.
""Praise God," he said lifting his drink
"And the devil too!" you said with a wink"
I think I remember hearing that these lines come straight from the movie Zorba The Greek, but I am not sure. Either way, in the context of the first verse, this is a perfectly fine summation of a life that is complete, a life of good and evil, a life that exemplifies the compelling reasons to embrace the good and the bad, the dark and the light, the scars we all wear.
After hearing the chorus again, the ever present rhythm guitar is soon joined by horns and a thumping bass line that would have made Sun Studios producer Sam Phillips smile. Orrall then helps us by framing how a life filled with happiness and scars, with God and the devil, can be made full and fulfilling.
""Hey Woody Guthrie! Hey Marc Chagall!
There's far too many of you to thank you all
But I wanna talk about the gift that you gave, and
I'm so happy about the gift that you gave!
It's what makes up a life that makes the life count. It's the stories we tell, the art that surrounds our experiences, the colors we see around us. Life is made up of the things people give to us, and the things that we give back. Life is beautiful. When we celebrate our scars. When we have songs, and paintings, and books, and art and tears and laughter and doubt and pride and anger and optimism, life is really beautiful.
After the next chorus, and the horns take a more prominent role syncopating the rhythm, Orrall tells us a story, and speaks the next couple of lines.
SPOKEN:
I have a friend of mine once said….
"She said If you're ever around if someone dies
Look up and wave, they'll get a big kick out of it."
Even the end can be meaningful, and beautiful, and poignant. A fairy tale though it may be, the concept that a person who has just died will see us saying goodbye to them is an image of peace, and completion. It makes death OK, part of an every day continuum. We welcome people when they are born, and we wave goodbye to them when die.
"If I should die in a car wreck
May I have Van Morrison on my tape deck."
We have scars on our skin, and those scars have helped us live the life we have lived. We have praised God, and we have not forgotten about the devil. We have appreciated the gifts that this life has given us. Maybe, just maybe, when it's time to leave we get to enjoy some of those gifts. A kind person saying goodbye. Music we love in our ears. A little peace, happiness and beauty.
U Li La Lu. Maybe these words don't mean anything at all. Maybe they mean what you want them to mean. Maybe the mean precisely what you think they mean.

U Li La Lu
Written by Frank Orrall
Performed by Poi Dog Pondering
Released 1990